The #1 Accounting Software in Malaysia
Access UBS Software
Simplify accounting and focus on growing your business with the latest features from the Newer and Better UBS software
Why choose Access UBS  Software?
Since 1988, Access UBS (formerly known as Sage UBS) has offered innovative and localized accounting solutions to more than 500,000 customers in Malaysia and Singapore; hence, it is recognized very well throughout the region. We have grown from strength to strength and established ourselves as a leader in businesses software solutions for small and medium-sized enterprises (SMEs) because of our hard work and great determination. We have also been recognized by industry analysts and named the Frost & Sullivan 2019 Malaysia Financial Accounting Software Vendor of the Year.
Complete SST solution
Reviewed by Tax Consultants and approved by the Royal Malaysian Customs for the purposes of the SME subsidy.
Even more integrated
Different business departments are working closely together to generate the maximum output. In addition, Access UBS integrates our various products so that you can have a complete view and control of your business.
Seamless upgrade
We constantly discuss with our customers what they wish to see in future updates and work towards delivering them. Speak to us and find out how easy it is to upgrade from what you have currently to Access UBS.
Connected services
Accounting software is more than just journals and reports. For instance, Create Alerts, Messages, or Chat with the Helpdesk to solve your issues. Learn how connected services can enrich your total experience with our products.
Work remotely
The mobile license feature within Access UBS allows users to check out their license from their office device and use it on another device remotely for up to 30 days.
Integrate with UBS Payroll
Seamless integration with our Access UBS Payroll solution.
Experience the newer and better Access UBS Software
Redesigned for simplicity. Engineered for growth.
Access UBS redesigned the product for simplicity. Therefore, it is easier to be used for you. We have also engineered it for growth so that it can support you in your road ahead.
Modern Design
Easily and quickly get a snapshot of cashflows and your business health with a simpler, more intuitive design.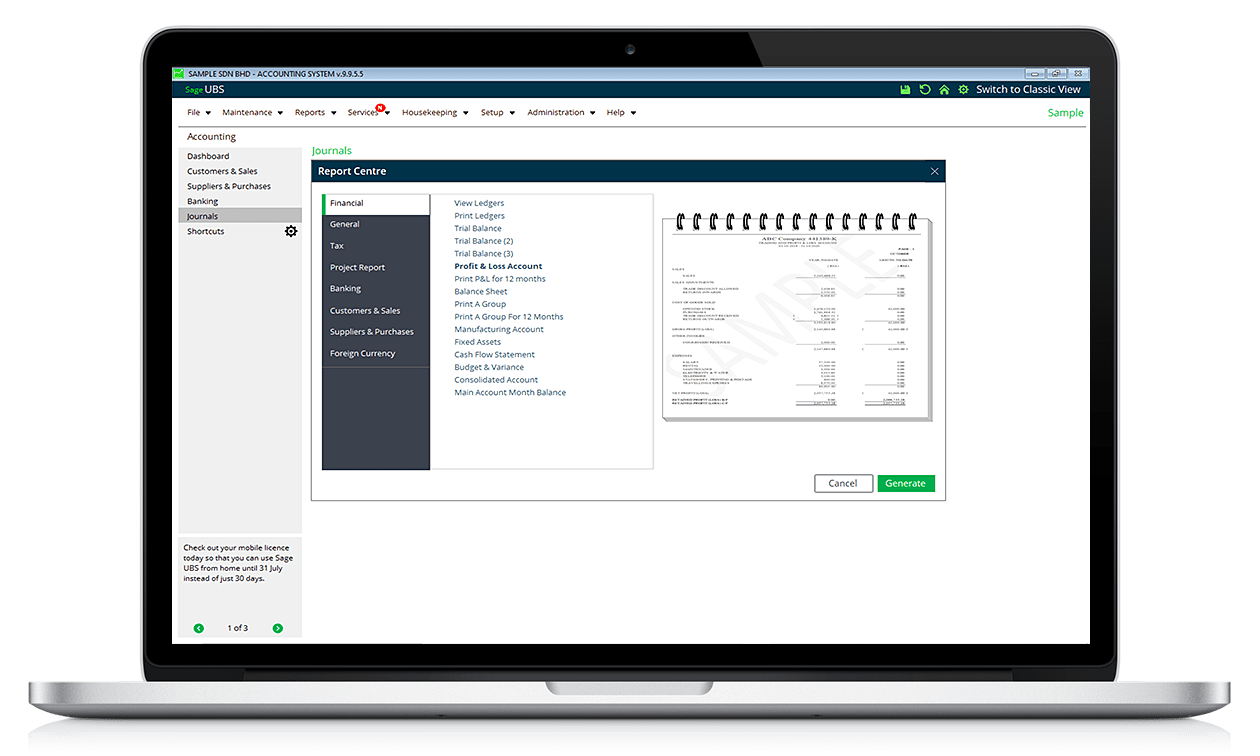 Quicker, more accurate reporting
 We've made accounting simpler – now we are making it easier. Our latest upgrades help you transform complex, critical financial reports into easily understood data through the all-new Report Centre for Accounting, Inventory, and Billing.
Report Center
Quickly preview accounting, billing, and inventory reports all in one simple interface.
Access Report Menu
Save time to find the report you need with centralised reporting menu.
Improved visibility and organization
It adds to an organization, hence improved visibility for customers to enjoy easier monitoring and more accurate reporting.
Access UBS Modules
Access UBS offers solutions that make it easier for our customers to streamline business processes, resulting in lower operational costs and reduced risk, which leads to a more profitable and sustainable business.
Start your free trial today
From Accounting, Inventory, and Billing Modules, Access UBS software is a highly trusted software solution perfect for small and medium-sized companies looking to manage their accounts and finances effectively in a professional way.
Try it free for 14 days.
Transform Your Business Now !
Office
62-2 Jalan Tasik Utama 7
Medan Niaga Tasik Damai
Sungai Besi, 57000 Kuala Lumpur
4A Jln Maju, Taman Maju
83000 Batu Pahat, Johor, Malaysia
Hours
Mon-Fri: 9am – 6pm
Sat        :  9am -1pm
Call Us
(603) 2148 7670 / 012-203 7670
(607) 433 7670   / 012-203 7670